3. Division of competences between the EU and its Member States
Getting to know and understand European politics and the role of the European Parliament starts from knowing that the EU may only act within the limits of the competences conferred upon it by the EU countries in the Treaties to attain the objectives provided therein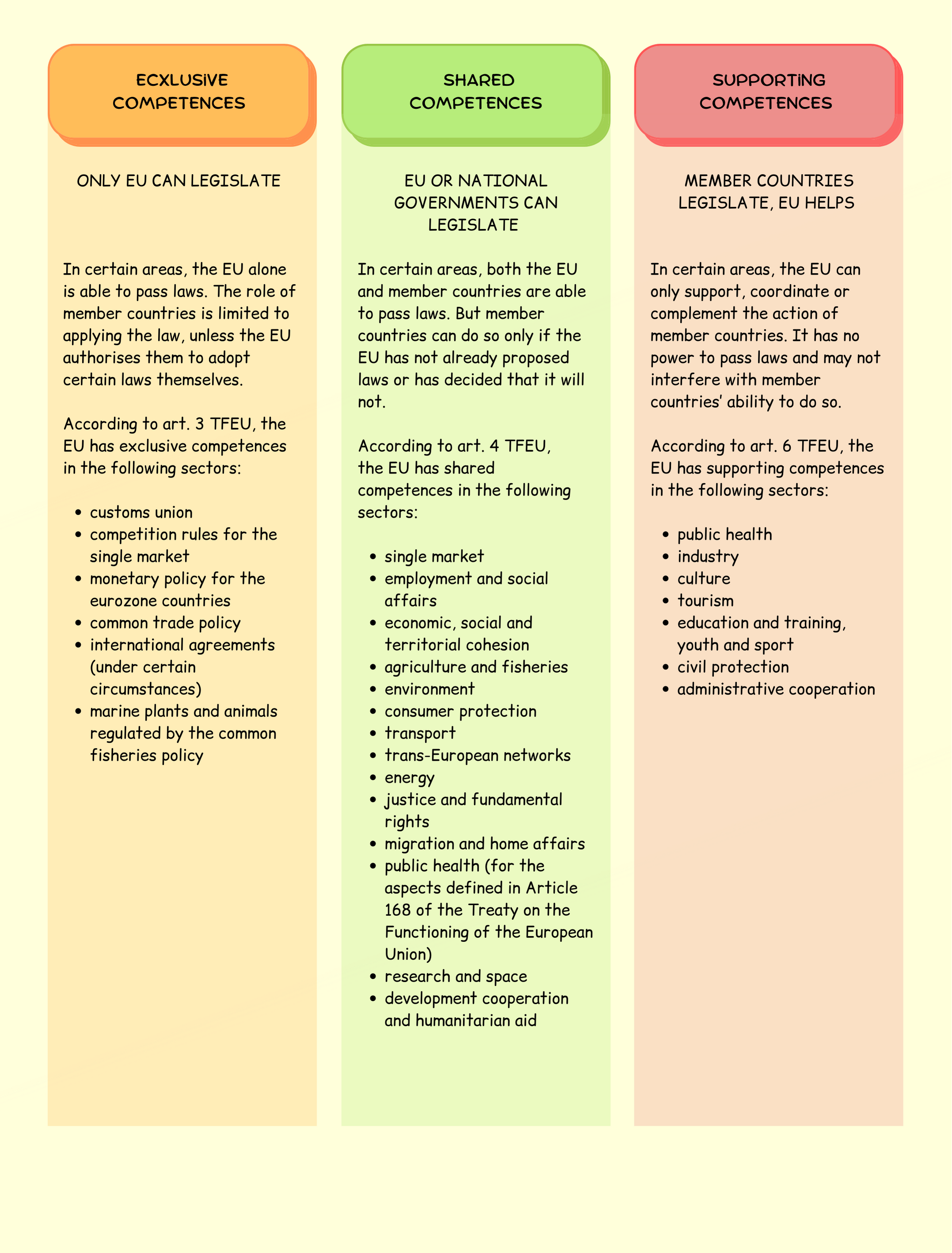 Source: Areas of EU action, European Commission
This short video shows the powers of the EU:
SPECIAL COMPETENCES
Apart from the competences described above, the EU can take measures to ensure that EU countries coordinate their economic, social, and employment policies at EU level.
In this regard, the EU established the European Semester (January to June), a period when Member States receive indications to elaborate their economic, budget, and employment policy in as uniform manner as possible.
In some sectors, the EU does not have legislative, but only support competence, because Member States do not wish to give up sovereignty and/or harmonisation of legislation is particularly difficult due to the diversity of political-institutional contexts. In these cases, coordination of national policies is implemented through a different instrument, the Open Method of Coordination (OMC), whereby Member States do not introduce legally binding common legislation, but seek nonetheless to coordinate, establish common goals, compare notes on good practices, and monitor each other - especially in the areas of employment, social protection, education, youth, and professional training.
The EU's common foreign and security policy is characterised by specific institutional features, such as the limited participation of the European Commission and the European Parliament in the decision-making procedure and the exclusion of any legislation activity. That policy is defined and implemented by the European Council (consisting of the Heads of state or government of the EU countries) and by the Council (consisting of a representative of each EU country at ministerial level). The President of the European Council and the High Representative of the Union for Foreign and Security Policy represent the EU in matters of common foreign and security policy.

EXERCISE OF COMPETENCE
The exercise of EU competences is subject to two fundamental principles laid down in Article 5 of the Treaty on European Union:
proportionality: the content and scope of EU action may not go beyond what is necessary to achieve the objectives of the Treaties;

subsidiarity: in the area of its non-exclusive competences, the EU may act only if — and in so far as — the objective of a proposed action cannot be sufficiently achieved by the EU countries, but could be better achieved at EU level.