4. European Legislation
The European Union is a complex legal structure that has evolved over time. It is worth providing a summary of its development and impact on anti-discrimination law.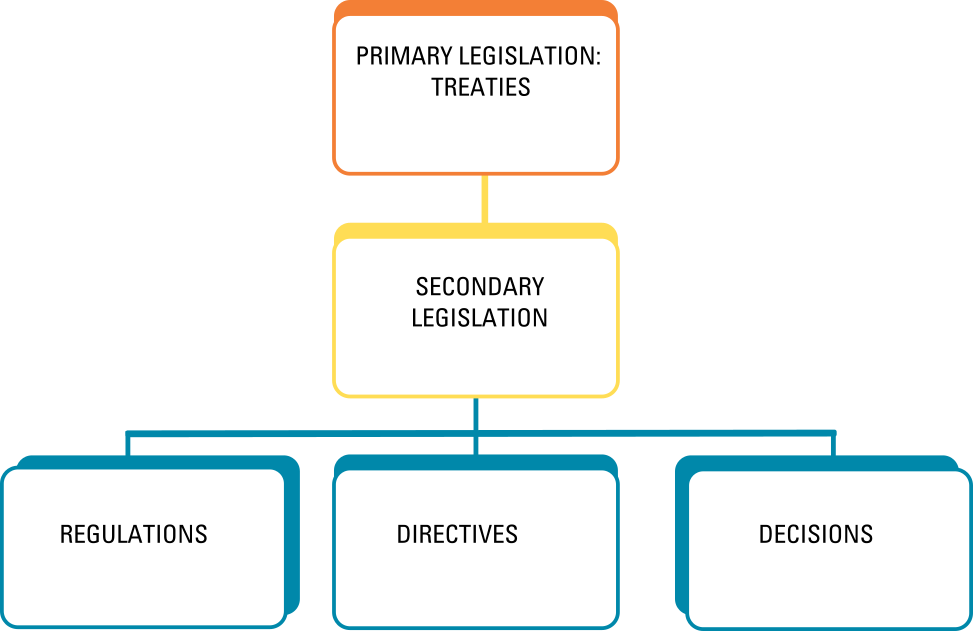 EU legislation becomes part of each Member State's juridical system. It is divided into primary and secondary legislation.

Primary legislation establishes the division of competences between the EU and its Member States, and defines the juridical framework within which the EU institutions implement policies.

Secondary legislation includes Regulations and Directives. Regulations are of general application, binding in all their elements, and directly applicable in all Member States, with no need for transposition into national legislation. Regulations must be fully respected by individuals, Member States, and EU institutions. On the other hand, Directives require Member States to achieve a particular result, but national authorities are left to choose the form and instruments. The Directive, therefore, must be transposed by the Member State, that adapts national legislation to the objective set. Decisions are binding in all their elements but, if they deal with specific situations, only for those they address (e.g., a Member State, an individual, a company, and so on).
Non-binding legislation includes recommendations and opinions (art. 288 of the TFEU).

The rulings of the European Court of Justice (ECJ) are another source of EU law.
1 Source: FRA, Handbook on European non-discrimination law, 2010
http://fra.europa.eu/sites/default/files/fra_uploads/1510-FRA-CASE-LAW-HANDBOOK_EN.pdf