EP instruments, sources, and resources
The European Parliament, on the basis of the principle of transparency, provides citizens with access to a wide range of materials, documents, infographics, legal resources, studies, videos, and more to document and disseminate its work
3. How to search in the Legislative Observatory
3.2. The block - causes and effects
The procedure file reports among the "key events" the Council debate of December 11th, 2014, and cites Germany's position in particular.

The case of Germany

Germany is one of the countries that is blocking the Horizontal Directive, which would grant a greater number of European citizens the same rights enjoyed by those who live in Germany.
In 2006, Germany adopted the General Equal Treatment Act/Allgemeine Gleichbehandlungsgesetz (AGG). The main goal of this act is the protection of people living in Germany against discrimination based on race, ethnicity, gender, religion or belief, age, disability, or sexual orientation. Protection applies to both employment and civil law. But why does Germany oppose the directive, then?

The answer can be found on Ipex: page of the German Bundestag.
Here are summarised the three main reasons for opposing the Directive and the possible objections: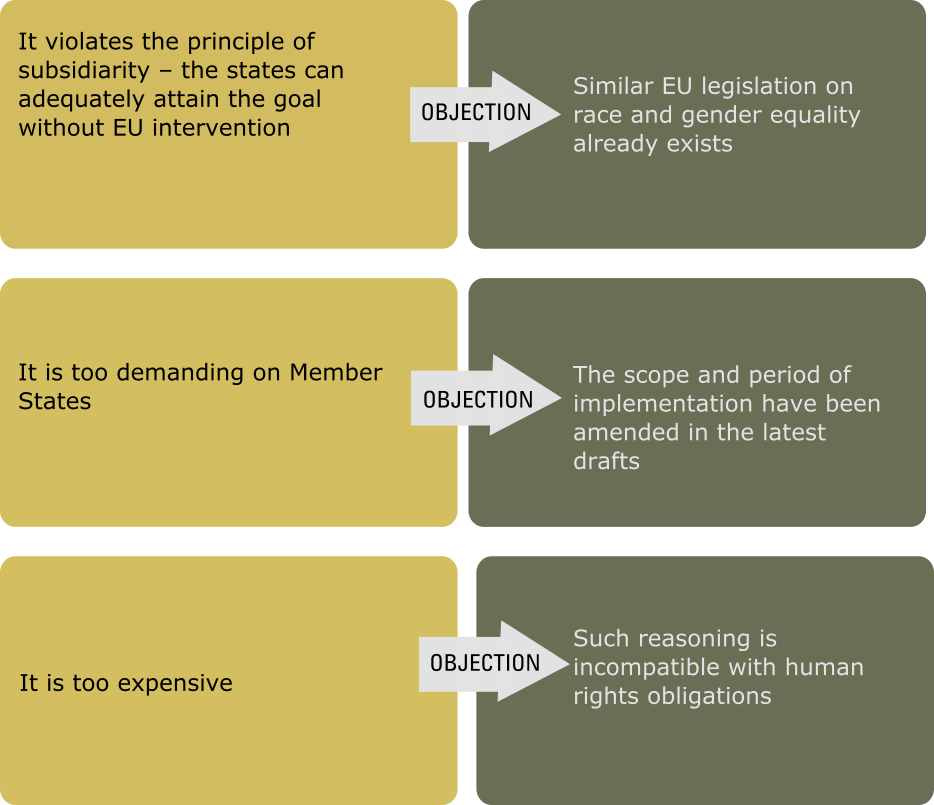 Italy, on the other hand, approved the directive after the Commission for European Affairs deemed it in compliance with the principle of subsidiarity.
The position of the Member States opposing the Directive impacts people's decisions on their right to move freely for travel, work, or study. It also makes it more difficult for providers of goods and services to operate across borders. Disparity in the protection from discrimination at national and EU level also means that discrimination cases cannot be addressed in a consistent manner and that victims of discrimination are left with different resources according to the Member State they live in.

Source: Commission Staff Working Document (ENG)
Link:
http://www.ipex.eu/IPEXL-WEB/dossier/document/SEC20082181FIN.do
Thanks to the EP's audio-visual sources, we can watch and listen to the speech by MEP Sophie in't Veld (2014), who denounced the political reasons behind the opposition to the directive.